Heating And Cooling Company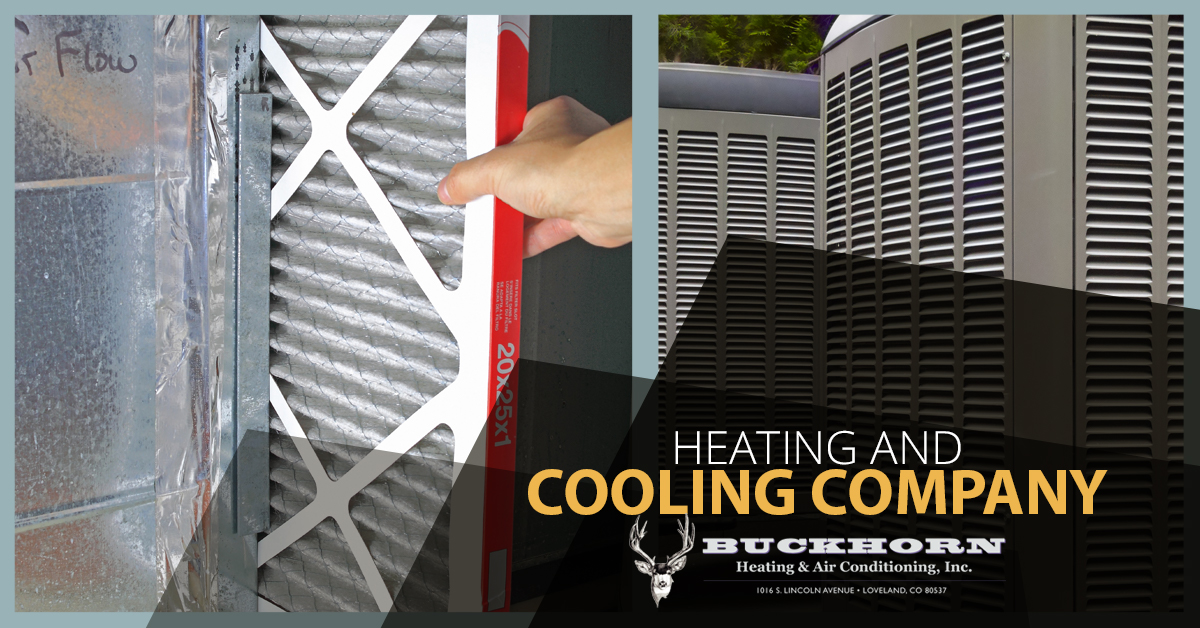 Northern Colorado is no stranger to extreme weather fluctuations. No matter the time of year and where exactly you're located in Northern Colorado, changes in weather can often be unpredictable and devastating if we aren't prepared. This is just one of the many reasons it's so important to find a heating and cooling company that you can rely on.
With over 20 years of experience in the HVAC industry, Buckhorn Heating & Air Conditioning has seen it all when it comes to furnace and air conditioner breakdowns and emergencies. We know exactly what it takes to get your air conditioner or furnace working in optimal condition before the most extreme hot or cold spells hit and we're willing to do everything it takes to make it happen.
We pride ourselves on our ability to provide superior customer satisfaction and complete transparency when it comes to pricing and the condition of your HVAC system. This is an important part of being able to form a lasting bond with our customers so that they will know they can consistently rely on us for high-quality heating and cooling services.
Reliable And Efficient
One of the most common complaints homeowners have about heating and cooling companies is that they aren't able to get scheduled soon enough. Timeliness is of the utmost importance especially during HVAC emergencies and if you're faced with a broken furnace or air conditioner during the most extreme weather conditions of the year, we understand how you feel! This is why at Buckhorn Heating & Air Conditioning, we've optimized our scheduling to ensure every homeowner gets high-quality and immediate services. Like your home itself, your HVAC system is an investment. If it's not serving you during the hottest and coldest times of year, it's not worth your money.
Furnace Services
We here at Buckhorn Heating & Air Conditioning recommend repairing or replacing your furnace as soon as possible after it has stopped functioning. Although we'd be happy to provide you with furnace services all year long, ideally, you'll want to look into it at the end of summer or early fall in order to make sure everything is ready to go by the time the cold weather hits. We include comprehensive furnace services, including repairing and replacing the following:
Furnaces
Boilers
Controls
Humidification
Heat pumps
Traditional heating systems and mobile home heating systems for both manufactured and modular homes.
Ventilation
Water heaters
Furnace Repair And Maintenance
Even if your furnace appears to be working as it should, we recommend having it checked once a year or more frequently for older systems. Furnace maintenance will not only keep your system running its best, but it'll ensure that no major breakdowns occur. If this happens, you'll be left with costly repairs and more downtime. Just like a broken down car, a broken furnace can cause a lot of unnecessary stress and worry on your part.
On the other hand, if you know there's an issue with your heater — if it's making funny noises, your energy bills have spiked up, or it's not working at all — you'll know who to call. Unfortunately, if your heater is acting up, it's a good sign it's going to either break down soon or it is reaching the end of its life. Generally, heaters last around 15-20 years, however, if yours hasn't seen much maintenance throughout its lifetime, that number could be much less.
Furnace Replacement
During the dead of winter, the last thing you want to worry about is a broken furnace. At Buckhorn Heating & Air Conditioning, we get in quick and install heaters correctly the first time so that you won't have to worry about the comfort of your home when it matters most. Sure, we like curling up next to the fireplace as much as the next guy. However, if you're doing this out of necessity rather than for fun, you've got a problem on your hands!
Give us a call as soon as your heater stops working. It's our top priority to provide you with an accurate diagnosis of your issue, so if we think your system just needs repairs, we'll let you know. However, if your heater is damaged badly enough or it's just getting old, we'll let you know when a replacement is a good idea.
Air Conditioning Services
Although you won't have to deal with snowstorms and freezing cold temperatures during the summer, you will have to deal with the sweltering heat. Unfortunately, it's no so easy to escape the extreme temperatures during the summer aside from shedding a few layers of clothing or taking a dip in the pool.
When you call Buckhorn Heating & Air Conditioning for AC repair or maintenance, you can be sure we'll only send the best trained and certified technicians to help you out. No matter whether you need, a simple AC repair, ductless cooling system repairs, or zoned cooling system maintenance, we're here to help!
AC Repair And Maintenance
Buckhorn Heating & Air Conditioning is happy to be able to service all major brands of air conditioners as well as all types of units including evaporative cooling, ventilation systems, rooftop cooling, ductless cooling, and more. Like with our heater repair services, it's our highest priority to provide you with superior services when you need it the most. Summers in Loveland, Longmont, and Fort Collins can often be much hotter than expected, and as a result, you may be caught off guard by an air conditioning system failure or other issue. Give us a call today and we'll get you on our schedule right away.
AC Installation
Early and mid-summer are two of the busiest times for HVAC companies. This is when many people are contacting them for last-minute repairs or AC replacement. If you've been searching, but can't seem to find an HVAC who isn't booked out, give Buckhorn Heating & Air Conditioning a call. We take pride in being able to provide every homeowner with high-quality air conditioning services no matter the time of year and no matter the extent of your issue.
Indoor Air Quality Services
The other major aspect of our HVAC services here at Buckhorn Heating & Air Conditioning is indoor air quality. According to the United States Environmental Protection Agency (EPA), there is an increasing amount of evidence that says indoor air quality could be worse than outdoor air quality, even in industrialized cities. Although this may seem baffling, think about it for a moment. Every time you walk in your front door, you're tracking in allergens and dirt that can spread throughout your home. Damp basements can be a perfect breeding ground for mold and mildew, and every time you use a cleaning agent, the chemicals are contained within your home.
One thing many homeowners don't realize is that their heating and cooling systems play a major role in keeping indoor air clean and reducing the likelihood of having to deal with mold infestation and other issues that will pollute your indoor air. There are several services we offer that will help keep your home's indoor air quality clean including:
HRV Installation And Repair
Your HRV (heat-recovery ventilator) is in charge of purifying your home's air without the need to open windows, letting in harmful allergens. Additionally, an HRV will help regulate humidity which is essential for preventing mold and mildew.
ERV Installation And Repair
Energy-recovery ventilators are similar to heat-recovery ventilators only they're designed for more hot and humid environments.
Air Duct Cleaning
Air duct maintenance is an important part of keeping your indoor air clean and breathable. During air duct maintenance, your HVAC specialist will fully inspect the outside and inside of the ducts looking for any damage, issues with airflow, and any areas that need to be cleaned. Below are some of the main reasons to get an air duct inspection.
People with asthma and seasonal allergies are extremely sensitive to allergens that are found in air ducts. This includes things like pet dander, pollen, dead insects, dust mites, and carpet fibers.
Your HVAC system will generally run more smoothly, efficiently, and last longer if air ducts are clean and cleared of debris.
Damaged air ducts will leak air and could be spewing dust and other debris into your home. A full inspection will help your HVAC specialist locate these leaks and repair them.
Air balancing is the process of regulating and creating the desired airflow within air ducts. This will help improve the efficiency of your heater and air conditioner, prolong the life of your system, and improve ventilation.
At Buckhorn Heating & Air Conditioning, we use the most effective methods for fully inspecting and balancing your air ducts. If you've never had your ducts cleaned or balanced before, you may be surprised at how much money you could be saving on your energy bills and how much cleaner the air will be that you and your family are breathing in. Another important part of maintaining a healthy home is replacing your air filters. The great news is that you can do this relatively easily by yourself. However, if you're having trouble deciding what type of filter you want or figuring out how to install it, we'd be glad to help!
Thermostat Repair Or Replacement
Sometimes the reason for your air conditioner or furnace not working has nothing to do with the system itself and is instead the result of a faulty or old thermostat. If you are using an electric furnace without the proper thermostat, you could be costing yourself hundreds in wasted energy. Instead, you may decide to opt for a programmable thermostat that can be scheduled to turn on or off depending on whether you're home or at work. If you're going to be gone on vacation, all you'll need to do is program it to stay off for this period and turn back on when you return.
When you chose Buckhorn Heating and Air Conditioning for your HVAC services, we provide both emergency and annual thermostat repair and replacement services. Our team believes that by providing you with quality services now, we can effectively save you hundreds of dollars in wasted energy throughout the rest of your month and life. We stop at nothing to provide you with the quality services you deserve and always offer upgrade services that ensure the thermostat that you have in your home is the most effective for your HVAC appliances.
If you simply have questions about any of the services we offer, don't hesitate to give us a call. We offer free consultation on all of your services including thermostat repair.
---
Contact Buckhorn Heating & Air Conditioning Today
It's no surprise Buckhorn Heating & Air Conditioning has become one of the most trusted and renowned heating and air conditioning companies in Loveland, Fort Collins, and Longmont. With over 20 years of experience, we're not just offering you expert services, we're offering knowledge and a level of understanding of HVAC that can only be gained through years of hard work and dedication to the industry.
We don't provide just residential HVAC services either; we're happy to provide you with the highest quality of commercial heating and cooling services as well. When you come to us, you'll never have to worry about someone trying to upsell you on everything. Instead, we're 100 percent focused on your success and satisfaction with every installation, repair, or maintenance task. We hope to form a bond with each and every one of our customers so they always have a reputable HVAC company to come to, time and time again. Give us a call today.